Baldwin County Education Coalition is thrilled to join Baldwin County Public Schools in recognizing instructional best practices and honoring educators who work to be the best in their profession, including educators who obtain National Board Certification. Three educators recently completed the certification process and were recognized at this year's Teacher of the Year Banquet.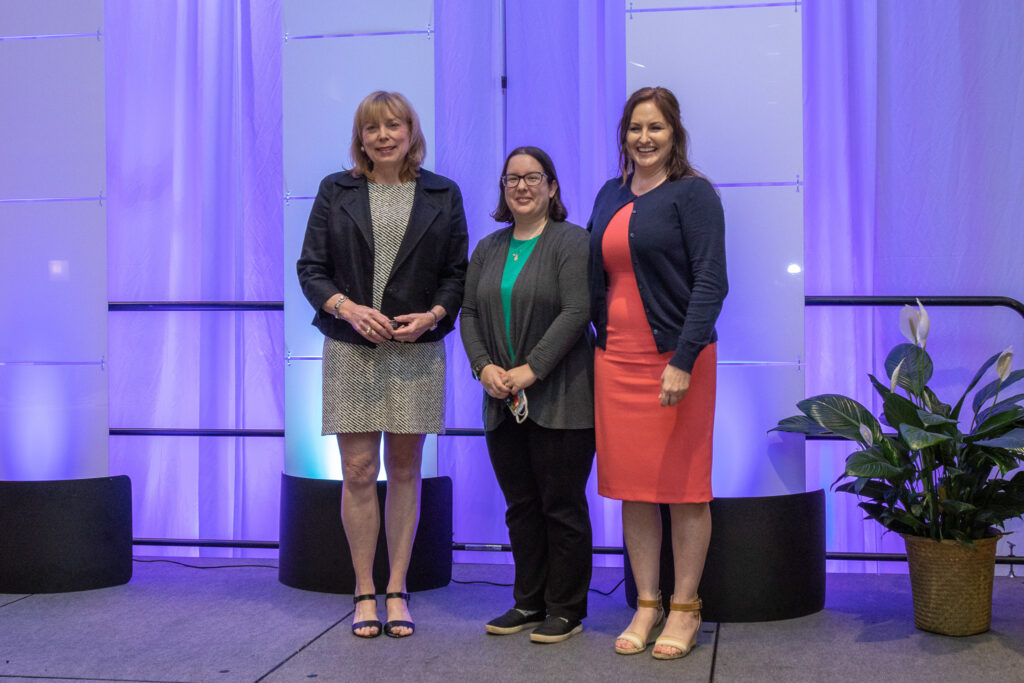 Pictured from left: Ashley McPhillips, Magnolia Elementary School;
Allie Schultze, Technology Support Services; & Patsy Brantly Calzetta, Robertsdale High School.
Baldwin County Public Schools has made it part of their mission to guide educators in becoming National Board-Certified, which is the most respected professional certification available in K-12 education. The National Board Certification was designed to retain and recognize accomplished teachers, as well as to generate ongoing improvement in K-12 schools throughout the nation. Baldwin County has had 83 educators complete the program in the last two years, impacting instruction and creating an even brighter future for our students.
In order to qualify for National Board Certification, prospective applicants must be a licensed teacher with a bachelor's degree and have at least three years of professional experience. Having met those requirements, a teacher can apply for certification in one of 25 specializations. The certification process includes four components:
Content Knowledge

A computerized test measuring subject and pedagogical knowledge.

Differentiation in Instruction

A portfolio of student work and an explanation of how it illustrates the teacher's capabilities.

Teaching Practice and Learning Environment

An in-classroom video and written analysis to demonstrate student interaction skills.

Reflective Practitioner

An Effective and Reflective Practitioner component that provides an opportunity to highlight abilities in developing and applying knowledge of students.
Achieving National Board Certification takes time. Teachers can spend 1 to 3 years to complete their certification. However, according to Jeremy King, Technology Support Services Coordinator, Baldwin County Schools has a team dedicated to making the certification process easier and achievable. The district provides two years of professional development through eMINTS, a monthly professional development program that provides a stipend to educators who participate. eMINTS guides teachers in their knowledge of the four modules, provides instruction around the process of grading for certification, and walks educators through the submission process.
Educators participating in the eMINTS program are also eligible for scholarships to cover the cost needed for the application fee. Up to 40 scholarships are awarded annually. In addition, upon receiving certification, teachers receive an annual stipend from the Baldwin County Board of Education and an opportunity for promotion within the school district.
"The entire motivation of the certification program is not to train teachers and cause more work on top of their already busy schedule. The mission is simply to see if the educator's practices are up to a nationally credited organization, and in most cases, they already are," King said.
Baldwin County Schools has a goal to prepare Baldwin County teachers so they feel confident to submit their documentation correctly and receive this esteemed certification. For those looking for more information, email jking@bcbe.org.