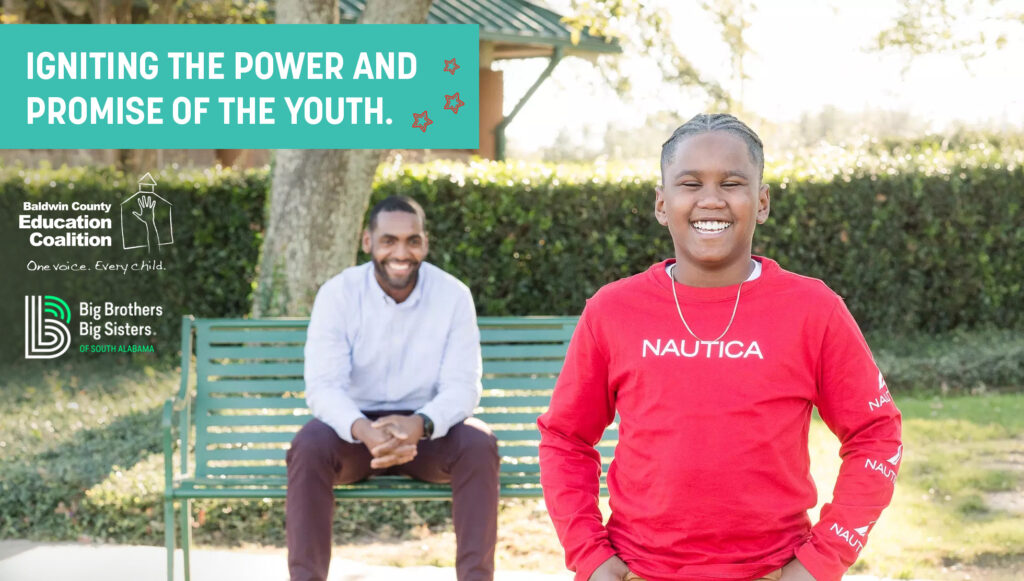 The Baldwin County Education Coalition's community partner Big Brothers Big Sisters of South Alabama's mission is to create and support one-on-one mentoring relationships that ignite the power and promise of youth, and they are sticking to these words. BBBSSA has worked tirelessly over the past decade to unite Bigs (adult volunteers) and Littles (students), to help young people realize their full potential and create a brighter future. Over this past year with a global pandemic that impacted the education industry so greatly, BBBSSA has stood strong and unwavering, working to continue to create fortifying relationships and assistance for Littles and Bigs alike during these trying times. We sat down with Aimee Riser, President and CEO of BBBSSA, to discuss the current state of the program, COVID-19 impact, and how the organization is moving forward towards a brighter future in 2021.
__________________________________________________________________________
Big Brothers Big Sisters of South Alabama is currently the largest one-to-one mentoring organization in south Alabama. The organization works to enlist volunteers, known as Bigs, to help young students, known as Littles, through Community-based and School-based mentorship programs. Through the two programs, BBBSSA enroll children ages 6-12 into the program, and work to continue the relationships through the age of 18. The community-based program is the traditional BBBS relationship that is all about one-on-one time spent between the Big and the Little doing activities they enjoy in the community. The school-based program takes place on school grounds and during school hours. The Littles are encouraged to work with their Big on homework or other school assignments, including reading, but can also ask their Big for help when it comes to topics such as learning about building healthy friendships.
Aimee Risser says that prior to the pandemic in February of 2020, BBBSSA was serving over 100 children in the Baldwin County area. Due to the pandemic, Risser says that number has dropped to 61 children. Risser says, "Because we serve children largely from single-parent and grandparent homes or children in foster care, this was the population that was hugely impacted by the pandemic." Risser noted that a lot of families relocated out of the Baldwin County area to find work, and many unfortunately lost loved ones due to complications with COVID-19, some of these people being the direct guardians of a Little. The Bigs in the program were affected as well by the pandemic, as Risser notes, struggling with not having the extra time during the week to volunteer due to work-from-home schedules and their own children having to school from home. And, of course, the stay-at-home ordinances made it difficult for Bigs to interact with their Littles in-person, with school and community centers being closed during quarantine. "It was heartbreaking because the pandemic started in March, and we were still in matching mode for that school year," says Risser. She continues, "the process for getting new students immediately stopped, and we had to switch to preserving our current students."
Risser says that like most of the population, BBBSSA switched into virtual gear immediately. Unfortunately, as Risser puts it, "The virtual world can make kids feel so isolated, and kids were mentally and physically affected just as much as adults." Everyone over the past year has suffered from the effects of too much screen time, whether that's a child in school or an adult working from home. To help combat the isolation of these children, Risser says, "The role of family creation became increasingly important, and we did anything to keep our Bigs and Littles together." Rissers says the one-to-one relationships became the central focus during the pandemic, and BBBSSA sought out solutions that would be to the benefit of the children and the adults.
Risser and her team at BBBSSA realized that regular challenges were becoming amplified by the pandemic, and that these challenges were greater than just challenges with education. Many of the Littles' families were greatly affected economically by the pandemic, and this in turn affected their access to basic household needs like food. Seeing this, Risser and her team converted little libraries, which can be found around Baldwin County, to little food shelters for families experiencing food insecurity. This led to the creation of the Big Neighbors program, which Risser says will continue post-pandemic. The program allows community members to meet critical immediate needs, such as the creation of smaller scale food pantries. BBBSSA also helped facilitate drive-by birthday celebrations for Littles celebrating a birthday while in quarantine. Risser says, "The silver linings in all of this were in the innovative ways we could still be there for the children- like seeing how excited the Littles were to see their Bigs during a drive-by birthday celebration."
Though the pandemic presented definite challenges for the work of BBBSSA, Risser acknowledges that they were able to power through with the continued dedication of their Bigs, the help of community partners like BCEC, and working with the Baldwin County school system. "The school system in Baldwin County was amazing to work with, and the leaders in local schools, who were already challenged personally and professionally, continued to be outstanding partners," says Risser. "They know the kids we serve and they wanted to see us not lose connection to them." Risser notes that BCEC was an instrumental community partner as well, always keeping BBBSSA top of mind. "It amazes us and fills us with gratitude," says Risser.
As we approach the halfway mark for 2021 and the world is starting to open up again, BBBSSA is in growth mode. Baldwin County schools are back in-person, and though volunteers are not allowed on school campuses at this time, Risser and the rest of her team are confident that the community will be welcomed back into the schools in the Fall of 2021. Risser says, "We've held what we could hold together this past school year, and over the summer we want to prioritize recruiting Bigs, because there are a plethora of children to serve." She continues, "We feel confident that recruiting now is safe and that we will be well-received." Risser is confident that as the world continues to open up post-pandemic that members of our community will move out of survival mode and back into service mode. While people may still be hesitant to volunteer and get involved, come Fall, BBBSSA thinks we will be ready to get beyond ourselves and start working in our community again.
While individual partners and Bigs are a great asset to BBBSSA, Risser notes that community partners are equally as important, and will continue to be post-pandemic. As companies open back up and employees return to their offices, Risser and her team are looking to create relationships with new corporate partners and to engage with them. BBBSSA wants to encourage all local south Alabama companies who have a culture that supports community development and engagement to get involved with the Corporate Big Program. Similar to the individual-based community and school programs- the Corporate Big Program is sponsored by the individual's company, who allows the employee to use one hour of work time per week to serve their community through BBBSSA. "A consistent theme we see is that the company's find that they get so much out of the program," says Risser.
There are other opportunities for local companies to get involved as well, outside of volunteering. Risser notes that BBBSSA is always looking for funding from willing companies who believe in the organization and want to see it grow. BBBSSA is almost totally locally supported, with some state funding from the Department of Child Abuse and Prevention Fund. BBBSSA works hard to receive grant funding and partners with organizations such as United Way of Baldwin County to help raise awareness for the organization. In addition to corporate funding, Risser says that individual donations are of equal importance. Risser says that the organization has learned from the pandemic that individual giving is a priority, having lost nearly 30% of annual revenue due to having to cancel major fundraising events. "We dug our heels in even deeper, focusing on increasing opportunities for individuals to give and support us," says Risser. "We have started focusing on this during the pandemic, and now we have better options in place. We do want people to come to our events and have that experience, but we also know that some people just want to be able to give to a cause that they feel close to."
Looking towards a brighter future, Risser and the team at BBBSSA want to encourage people to get involved with the organization if they feel called. Through the challenges 2020 and the COVID-19 pandemic brought, Risser notes that BBBSSA is so grateful for all of the companies, local organizations, and individuals who stood by them and helped to keep their mentor programs afloat and their Littles supported. "We so value our partnership with the Baldwin County Education Coalition, the individual foundations, and the local school system as a whole who have been such outstanding partners through this whole year and beyond. We want to continue to encourage people who want to benefit our kids across Baldwin County to choose us as a way to do so." As a Partners in Education program, BBBSSA is a vehicle for which companies and individuals can choose to participate. The goal of the organization is simple and necessary- to ensure that the youth of south Alabama are able to achieve their full potential.
If you or your company would like to get involved with BBBSSA please visit their website at www.bbbssa.org to find out more information about corporate partnerships and volunteer opportunities, or reach out via social media. We here at the Baldwin County Education Coalition are proud of the work being done by BBBSSA, and want to encourage those who feel called to participate to do so. As Risser says, "We hear so often when people get involved that they only wish that they had gotten involved sooner. You know there is never going to be a perfect time, so jump in!"