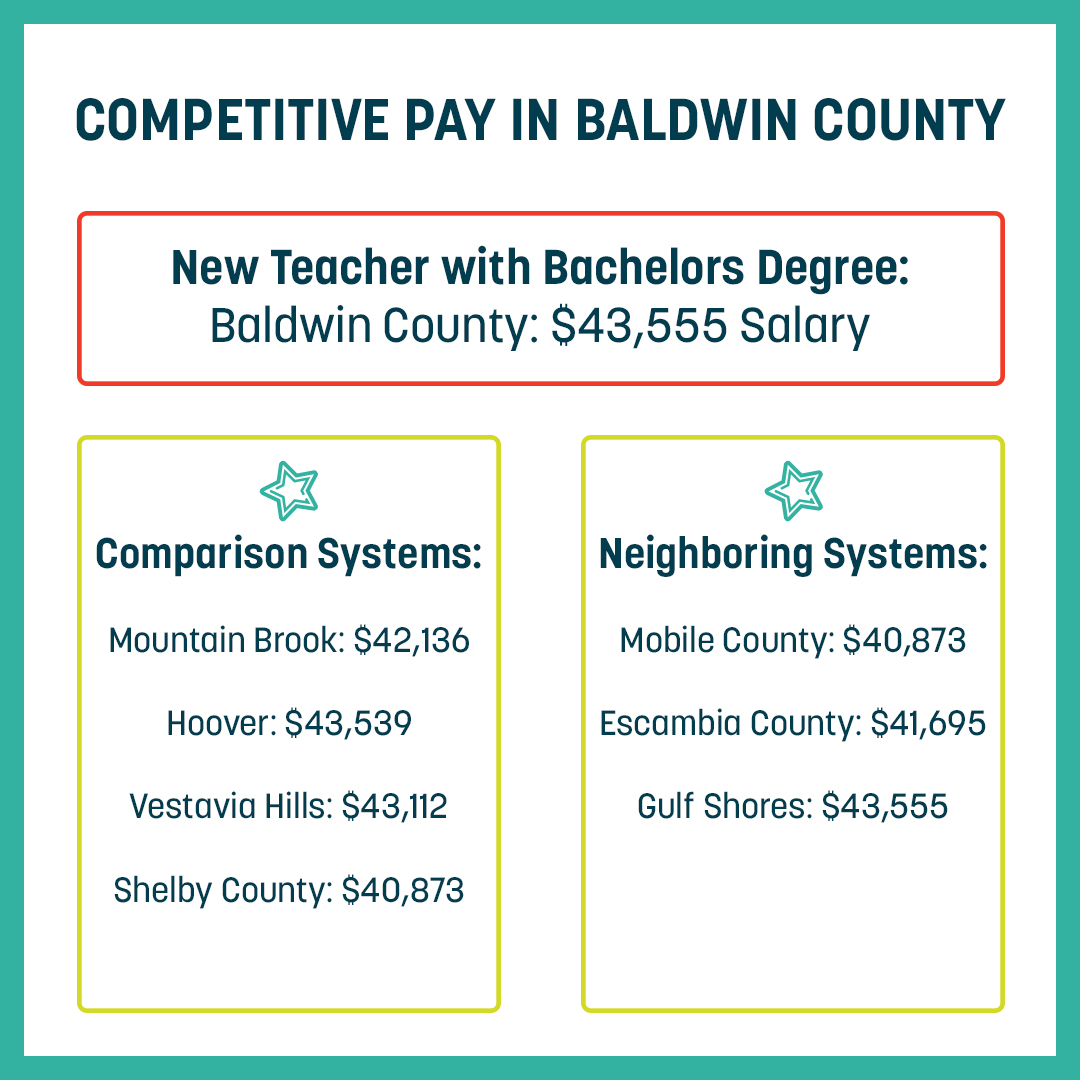 01 Nov

Baldwin County: Attracting and Retaining Great Teachers

Baldwin County Public Schools rank among the highest in the state for employee salaries thanks to initiatives led by the board of education and its chief school financial officer, John Wilson.

Working for the Baldwin County Public School system is more than just a job for Wilson, it's a passion close to his heart. He is a product of the very school system he serves and advocates for, having attended schools in Daphne, Alabama from kindergarten through high school. His first-hand experiences drive him to ensure Baldwin County students reach their maximum potential by hiring exceptional instructors.

Wilson notes changes in the local and national education environment, such as drastic funding cuts between 2009-2011, COVID-19 and teacher shortages in math, science and special education as the challenges school districts have faced in recent years. However, as of October 2021, Baldwin County's employment salary was 4.5% greater than the State Salary Matrix and among the top in Alabama. The school district hopes that Baldwin County's competitive salaries continue to attract and retain the best teachers in the state.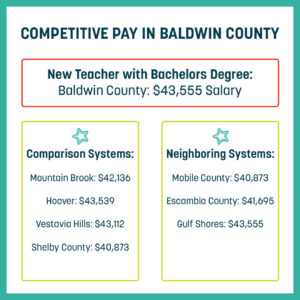 Wilson and the board of education provide a tremendous amount of support to educators to combat the challenges faced in the district. Through their intentional efforts, starting salaries for Baldwin County teachers are at higher rates than those working in high property tax school systems located in Central Alabama.
"I would say most everyone is generally surprised when they learn we pay our starting teachers more than those systems," Wilson said. Furthermore, Wilson shared that the school district has faced fewer teacher shortages than those surrounding communities because of favorable salaries.
In addition to competitive salaries, Baldwin County endows its schools with the necessary tools and funds to stay at the forefront of education. Advancements include new school construction, increasing resource officers and teacher professional development opportunities, reducing class sizes and providing relevant fine arts and extracurricular programs. Teachers also receive $700 yearly to purchase additional supplies, and classrooms are equipped with state-of-the-art technology such as Chromebooks for all students and interactive smartboards. Wilson believes that these and future efforts guarantee Baldwin County is "operating in the most efficient manner possible while providing a world-class education to our 31,000 students."
The economic progress is just the beginning for the Baldwin County Public Schools System in its quest to accelerate growth and opportunities for its students and teachers. "Through years of hard work, dedication and sacrifice, Baldwin County is in a solid place financially and this will create additional opportunities to bring the school system to all new highs," Wilson said. Recently, the board of education hired a consultant to help the district further evaluate the organization structure and ordered a compensation review to ensure that Baldwin County continues to be exemplary in all facets.
With two children in the Baldwin County School System and a wife serving as a school nurse for the district, Wilson knows Baldwin County is a great place to live and raise a family. He hopes that the school district's champion efforts, like competitive compensation and innovative educational advancements, encourage teachers to decide that Baldwin County is where they want to build a career and raise their families.