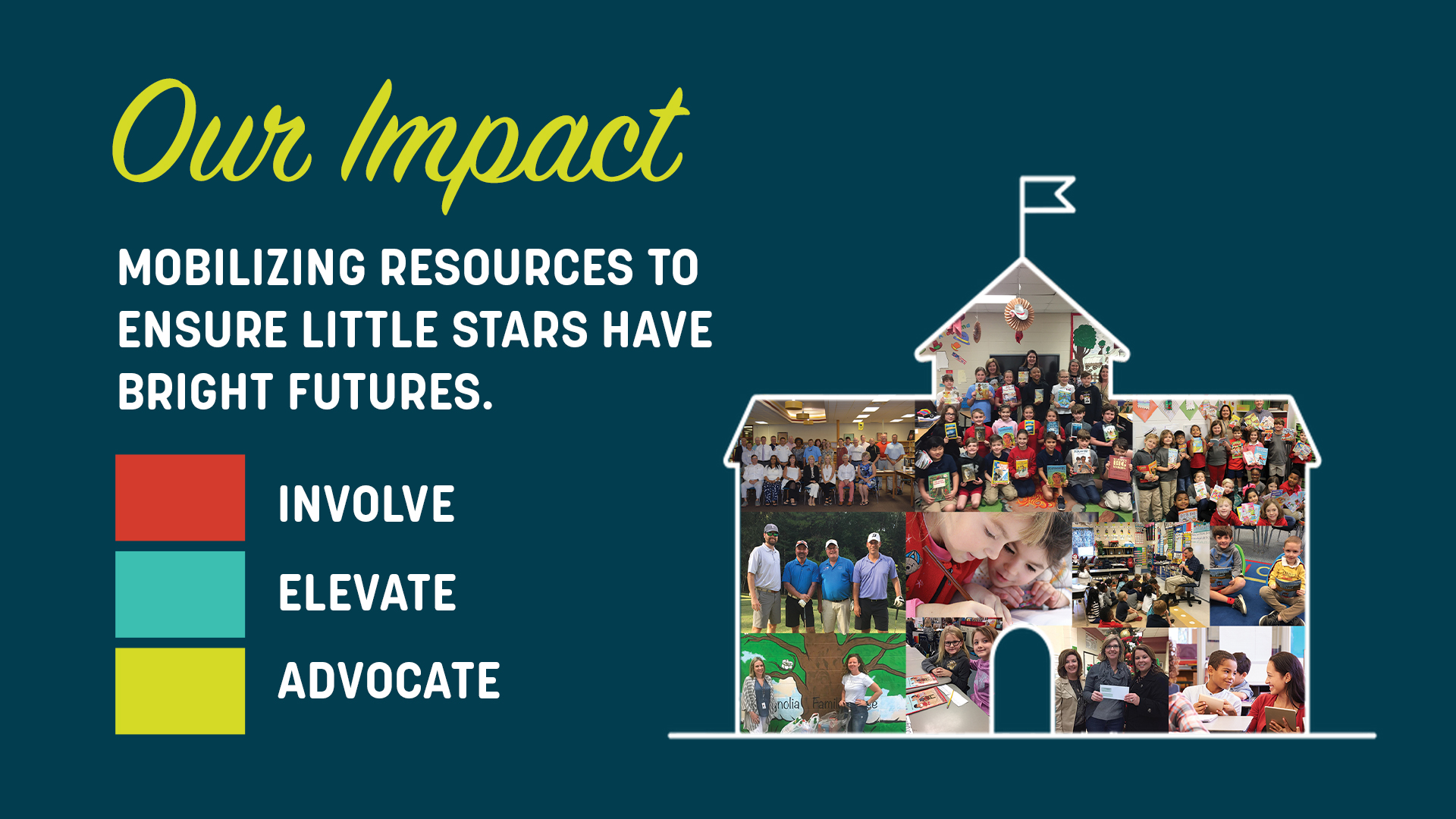 Working together, we have made significant progress since 2009:
Launched FAITH-BASED INITIATIVE – an effort to connect churches with the schools in their local communities. Currently 68 official partnerships.
Launched ANNUAL INVESTORS CAMPAIGN to increase funding for programs.
Launched ROUND UP FOR CHILD LITERACY INITIATIVE. Obtained first restaurant partner, PS Taco Company. Patrons are asked to round up to the nearest whole dollar. BCEC is the named charity.
Awarded IMPACT 100 GRANT – $101,000 to grow literacy-building classroom libraries in every elementary school in Baldwin County.
$494,000 IN LOCAL FOUNDATION GRANTS TO DATE.
Coordinated the STRATEGIC PLAN STEERING COMMITTEE –six meetings over two months to update the district's Strategic Plan.
Advocated for the VOTE FOR ONE MILL CAMPAIGN to renew 1 mill ad valorem.
Led COMMUNITY CONVERSATIONS across Baldwin County for updating the district's Strategic Plan – 12 meetings, 131 voices.
Awarded

IMPACT 100 GRANT – $97,000

for Guided Reading Short Reads and Teacher Professional Development.
Hosted BUILDING A LEGACY OF LITERACY SUMMIT to create awareness and increase support for Guided Reading.
Began hosting ANNUAL TEACHER OF THE YEAR BANQUET to recognize every school's Teacher of the Year.
Advocated and led SUPPORTING OUR SCHOOLS CAMPAIGN to renew 3 mill ad valorem.
Began coordinating ACT WORK READY COMMUNITIES INITIATIVE.
Advocated and led the BUILD BALDWIN NOW property tax referendum. Only 3 of the existing mills renewed, all others failed.
Organized and facilitated the COMMUNITY ADVISORY
TASK FORCE.

24 concerned citizens dedicated to thoroughly
examining and recommending actionable steps
regarding the future of our public schools.

17 RECOMMENDATIONS IN FIVE PRIORITY AREAS.
Hosted first BUSINESS ADVISORY COUNCIL.
Began hosting the GULF REGIONAL INNOVATIVE TEACHING CONFERENCE (GRITC) – over 1,200 teachers attend annually.
FIRST CONTRACT FOR SERVICES with Baldwin County Public Schools.

HIRED EXECUTIVE DIRECTOR.

Hosted first GOLF CLASSIC.
Elected first BOARD OF DIRECTORS.
Received

501(c)3 APPROVAL

from the IRS as a charitable organization.
Advocated and led the INVEST IN PROGRESS CAMPAIGN –extended penny sales tax an additional 5 years (2013-2018).
Published

YES WE CAN COMMUNITY AGREEMENT

, results of community conversations defining the schools we want, priorities for action and key strategies.
Developed a CO-OWNED STRATEGIC PLAN focusing on the five priorities for action.
Hosted first

EDUCATION SUMMIT

– learning forum to keep citizens informed and engaged.
Advocated and led the VOTE YES CAMPAIGN, an emergency 3-year (2010-2013) penny sales tax referendum.
Led YES WE CAN BALDWIN COUNTY COMMUNITY ENGAGEMENT INITIATIVE, including 85 community conversations collecting the voices of almost 1,300 citizens.
Day-long retreat of the seven education foundation boards of directors resulting in an organizational name, BALDWIN COUNTY EDUCATION COALITION.